Convenient On-Site Service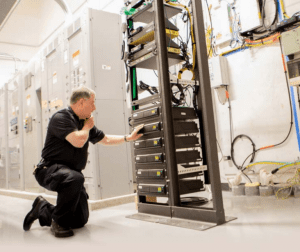 Possibly the biggest advantage of field service is a matter of convenience. RCV In-Field service allows your communication system to be installed, serviced, or repaired on your schedule and at your location; ensuring that your business has the type of reliable communication it needs to perform in the most stressful and unpredictable situations. Service will always be arranged to fit your schedule, meaning you can get the support you need without it interfering with your regular work day.
Reliable and Experienced Service
When your business needs dependable two-way radio communications, partner with a communications company that can offer you reliable and experienced onsite service. RCV's industry trained team of field technicians can efficiently diagnose, troubleshoot, and repair your radio system to keep communications up and running in your most critical times.
Advanced Diagnostic Equipment
With Radio Communications making the investment in state-of-the-air diagnostic equipment, you can be sure that our field technicians are equipped with the best tools available. Our equipment goes through regular calibrations and maintenance, which ensures our service and repair is accurate and precise.
Industry Quality Standards Compliant
Radio Communications prides ourselves on the quality and cleanliness of our work. Our team is committed to ensuring that all of our work is completed neatly and acceptably to comply with industry quality standards and ultimately, to the satisfaction of our customer. Not only can you rest assured that your service is performed by trained professionals, but you will have the peace of mind that it was done correctly without cutting corners.
When you buy two-way radios to handle the communications for your business, make sure that you work with Radio Communications of Virginia whenever you need expert in-field service. Contact us today!
Year-Round After-Hours Emergency Support
Need after-hours emergency support? No problem! We offer cost-effective emergency after-hours support 365 days out of the year. Whether you need an unplanned service call or are on a yearly after-hours support maintenance plan, we can provide the service you need at any hour of the day or night. Call our after-hours support line at 804-254-0524.