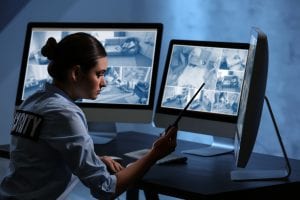 Security is a growing industry that continues to evolve as technology advances. Plus, there are a number of emerging concerns that can arise, which is why it's crucial to have effective communication systems in place.
Radio Communications of Virginia has the kind of products your security team needs, including two-way radios from Motorola. We'll tell you more about these systems below. Then, you can always contact us to find the right ones for you and your other security staff members.
Security Operations
The security industry has to deal with the most intense situations imaginable. Not only that, but they also need to handle multiple crises at a time, keeping and handling a ton of information. So, these workers need great decision-making, oral communication, and critical-thinking skills.
But a security operations team also needs to have consistent, clear communication among one another in order to succeed. Otherwise, they may not be able to respond to threats quickly, which could be quite dangerous.
Reliable Communication Solutions
That's why we supply Motorola radios, to give the reliable communication that your operation needs.
By using Motorola radios, you can send your security team vital information in a matter of seconds. Plus, you can rest assured that they'll receive the message, thanks to high-clarity calls.
Along with dependability and versatility, Motorola two-way radios are simple to use and provide clear calls anywhere and at any time. With just the push of a button, you can instantly give your team the most up-to-date information available, which will increase your operational success.
No matter what, you'll get something that increases communication flexibility, and provides clear and crisp audio, all for your peace of mind.
Get Two-Way Radios for Your Security Team Today
At Radio Communications of Virginia, we want to help provide your security team with Motorola two-way radios. This is to not only help keep everyone safe, but it's also to run successful operations time and time again.
For more information, and to get the right communications systems for you and your staff members, contact us today.